Whether you're opening up a new pediatric or family-focused dental practice, or looking to grow your existing dental practice by adding more patient families with children, marketing plays a huge role in creating brand awareness and generating new patient leads. This post is full of things to keep in mind for both the start-up as well as the established pediatric dental practice!
---
Pediatric Branding for Dental Offices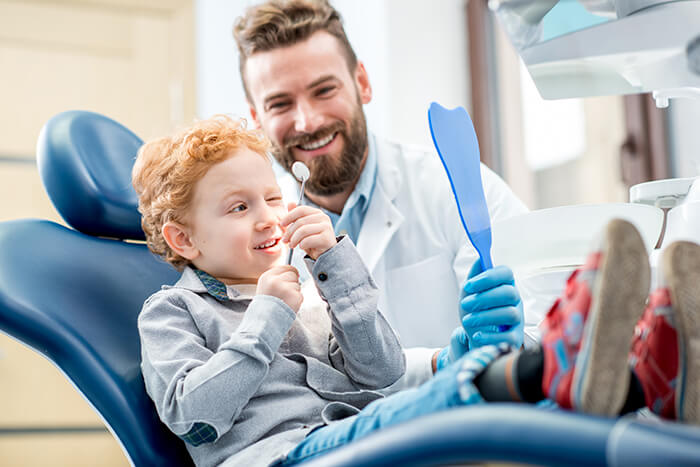 Perhaps the most important piece of the pediatric puzzle is establishing a brand that is appealing to kids and parents alike. You want something that differentiates your office from the competition, is easy to recall, and gives off a warm, welcoming feel! For a start-up or rebranding transition practice, we recommend getting the marketing process going with the following:
Pediatric Dental Practice Naming
The name of your pediatric dental office should reflect your ideal patient. One of the first things to decide is whether your practice will cater only to kids or if multiple providers will accommodate family appointments for patients of all ages (including adults). Whether your ideal target audience is a patient looking for a pediatric practice or a family practice will likely heavily influence the naming and subsequent brand look and feel.
Using local landmarks, geographic features, recognizable neighborhoods, practice culture and values can all play a role in helping to develop a recognizable brand for your kid-focused dental practice.
Lastly (and perhaps most importantly), have fun with it! Loving your brand and taking chances on things that feel right when it comes to your practice name will help you land on the perfect fit for you. That feeling of fun will permeate through your brand and stay with your practice into the future!
Practice Cafe offers our clients free practice naming assistance! Find out more about our practice naming philosophy.
Logo Design
Your logo is the first "taste" of your pediatric dental office for prospective patients and families. Including memorable fonts and colors to feature your practice name will create brand recognition for you and will immediately "click" in the minds of parents looking for a new dental home for their children or family.
Useful Print Pieces
Consistency in your marketing elements is important. Anything that patients interact with (your website, business cards, and physical office) should reflect your brand accurately and with consistency. Pieces like stationery, referral marketing cards, business cards, and others should serve purpose in your practice and carry your brand as a reminder to parents.
Stationery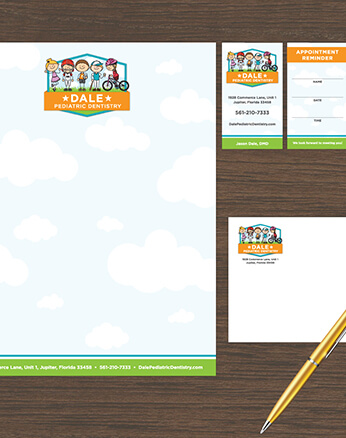 Pediatric and family practices handle communication with patients of all ages, and stationery is one of the most simple but useful tools in your toolbox when it comes to helping families manage appointments and notes. Don't underestimate how useful these pieces can be, especially as they'll put your contact information right in the hands of your patients to help with future appointment setting or follow-up questions. Even if an appointment reminder card gets put into the recycling bin when the patients get home, giving the parent a written reminder of their next appointment as they walk out of your office can be ever so helpful when they're carrying a child and pulling their digital calendar out would be a hassle! Let them take the card to the car or home, where they're better able to add appointment dates and times in peace.
Referral Marketing
We like magnets and dental report cards as easy take-home items for current patients to keep your brand top of mind for those regular hygiene check ups! These pieces can also be used in conjunction with local school visits and move-in packs for new neighborhoods or apartment complexes that offer family amenities. Our recommended starting pieces for a kid-focused practice are:
---
Direct Mail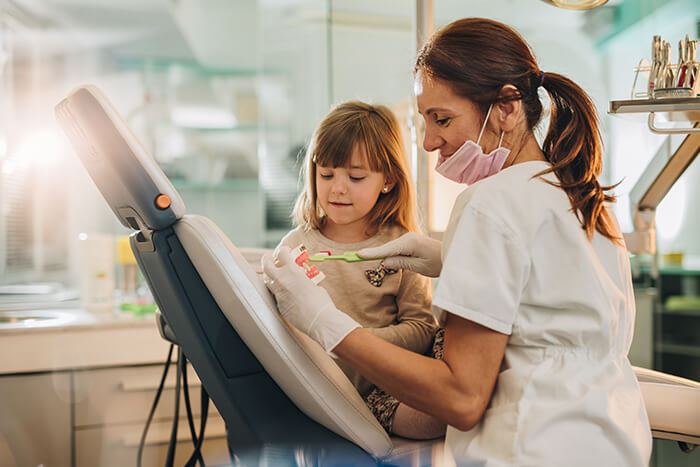 For our pediatric practices, we recommend one of our specialty direct mail pieces.
Grand Opening Supersized Postcard
If you're a start-up, our grand-opening postcard is always best practice. A grand opening dental postcard gets your office's brand and information directly into the hands of people in your community. We send this dental promotional piece out a few weeks prior to the practice opening to help generate some buzz and get new patients on the books before doors open. Not only does this give you a leg up on generating new patients, but it allows you to get a feel for how direct mail will perform in your area before moving on to a larger campaign.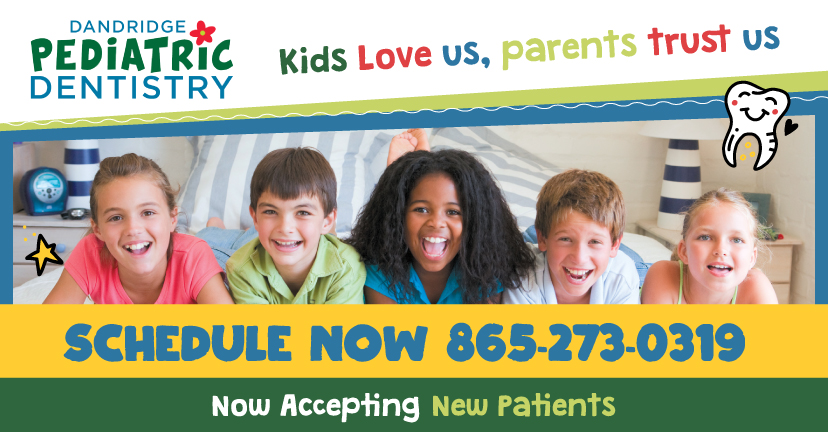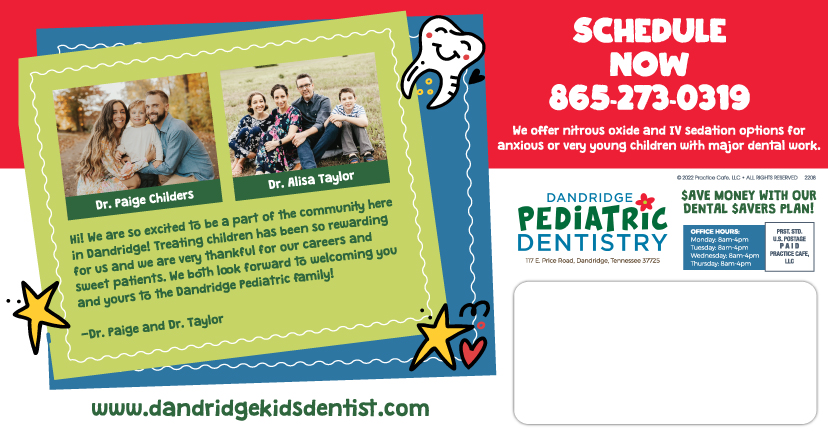 8-Panel Mailer
After running a postcard for a quarter or two, we recommend moving to a larger piece to feature more about your office and treatments (and promote a special or two). Practice Cafe's 8-panel direct mailer is eye-catching and fabulous in the mailbox! It's the right fit for a family practice, with adequate room to feature kid-focused philosophy and amenities in addition to other, more general practice offerings (or even more specialties). You can make this piece your "something for everyone" mailer, which is great for a start-up dental office with broad appeal.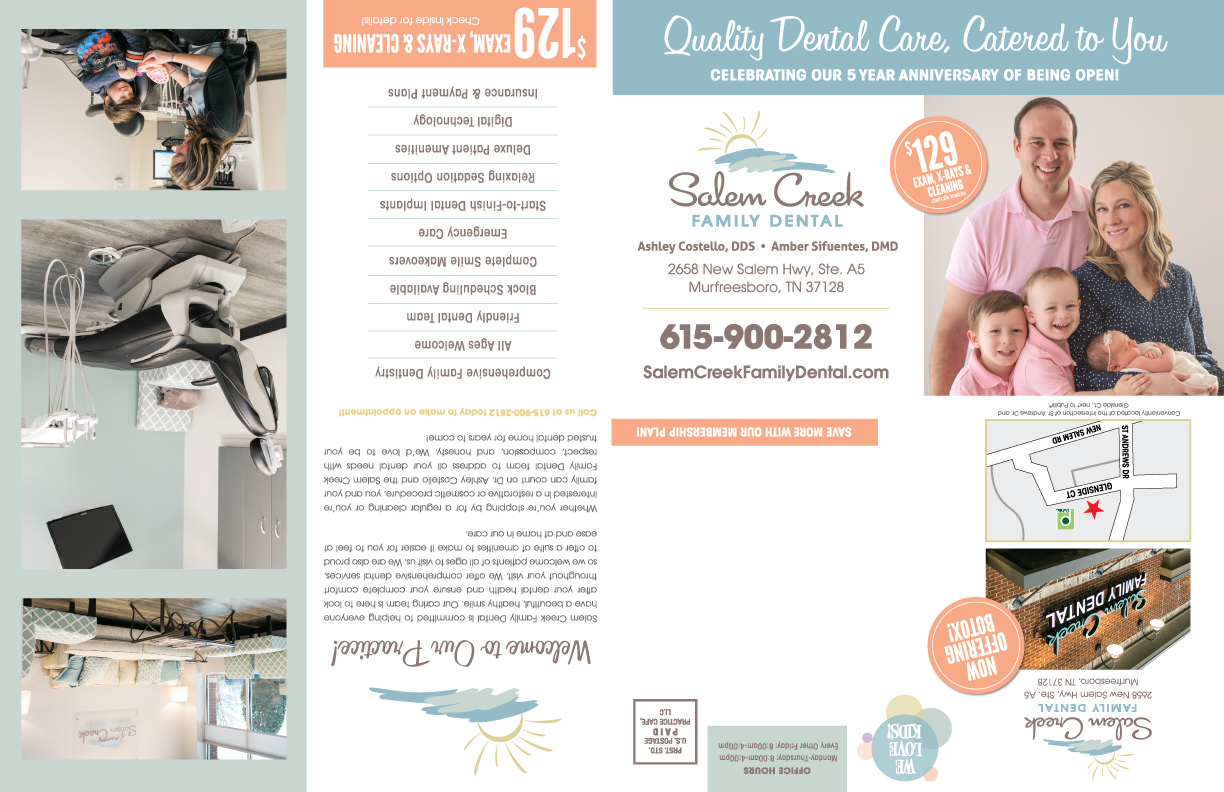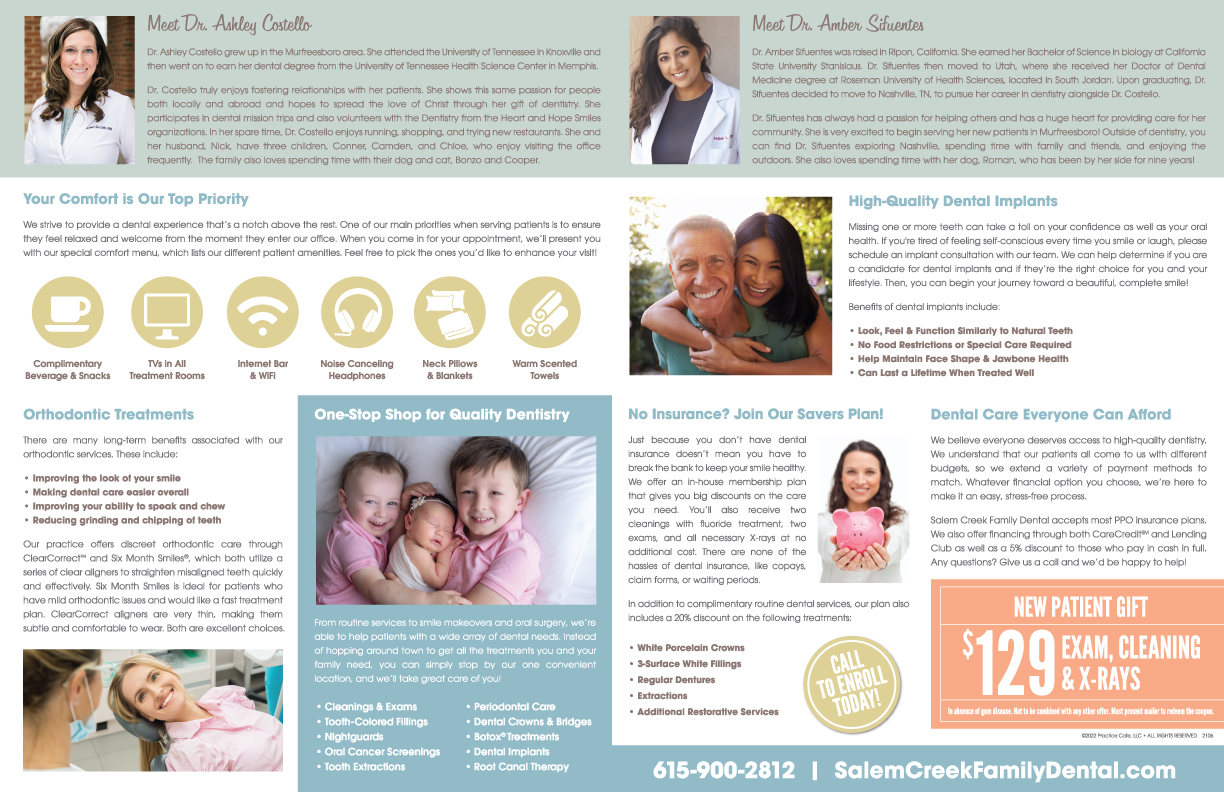 4-Panel Mailer
A 4-panel dental direct mailer is a common piece for specialty dental practices. Smaller than an 8-panel mailer, the 4-panel has the right amount of room to focus on a couple of offerings like a pediatric only office or an orthodontic practice.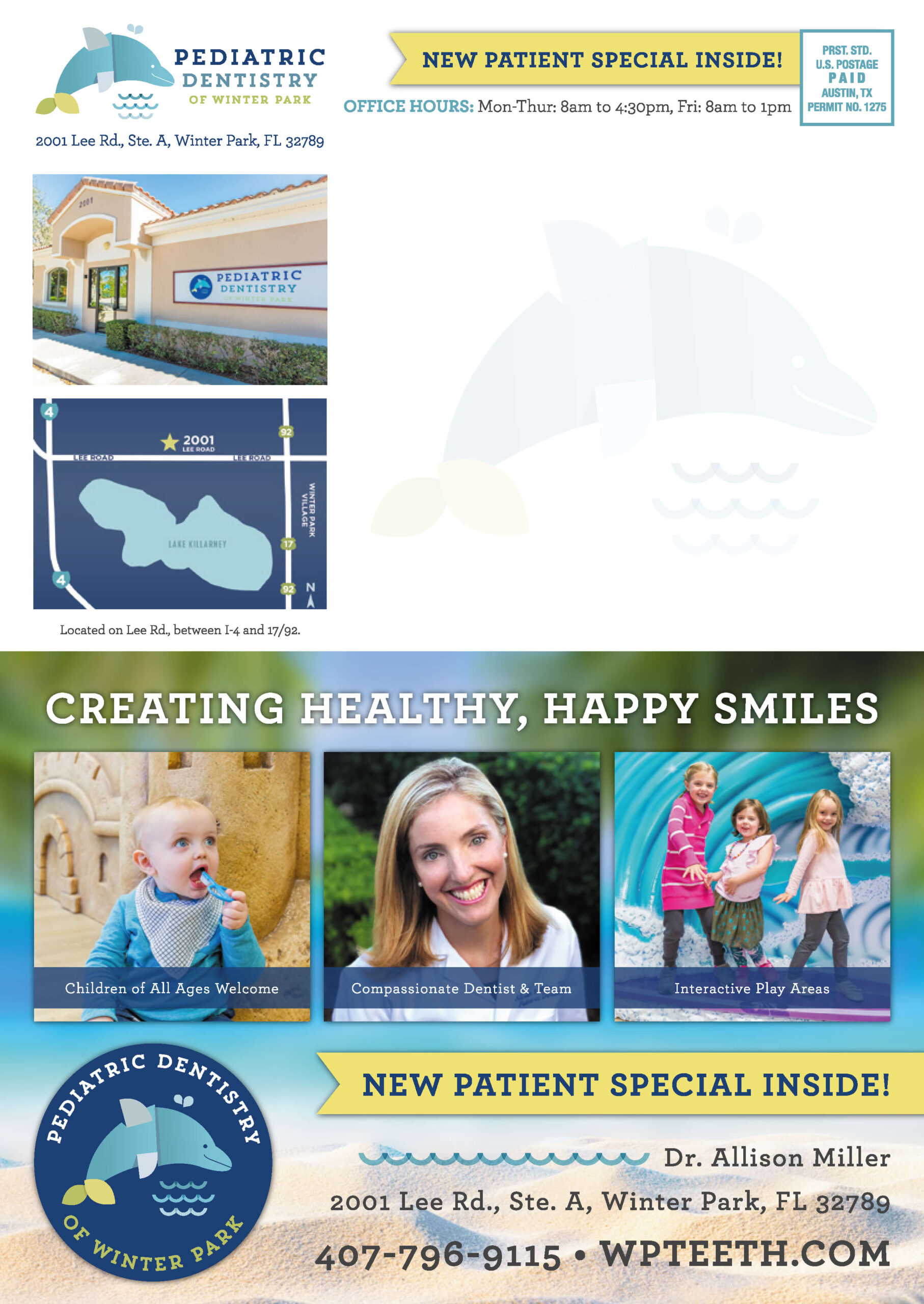 ---
Digital Marketing
Pediatric Dental Website Design
An up-to-date and freshly designed website is key to making a terrific first impression online. Many of your future patients will interact with your website prior to contacting your office. A relevant site that is easy to navigate on all devices, effectively conveys the values and services of your practice, and shows up in search results is key to attracting your ideal patient families hopefully ahead of the competition.
Visit our specialty dental practice website gallery to see more!
Find out how you could get a free pediatric dental website with us!
Pediatric Dental SEO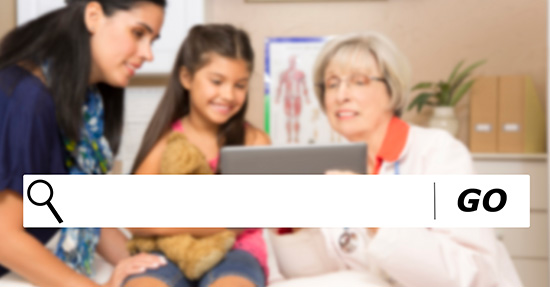 The process of optimizing your pediatric specialty dental website presence should not merely be part of a one-size-fits-all solution. Rather, your target audience, specific location, competition in the pediatric space, and desired ideal patient should all be taken carefully into account with your SEO plan.
Often, marketing companies will miss the mark on advertising for pediatric practices and cast the net too wide by targeting general dental terms. Being direct in your digital marketing about who your pediatric or kid-focused dental practice serves is more likely to create higher-value patient leads for your office.
Pediatric Dental PPC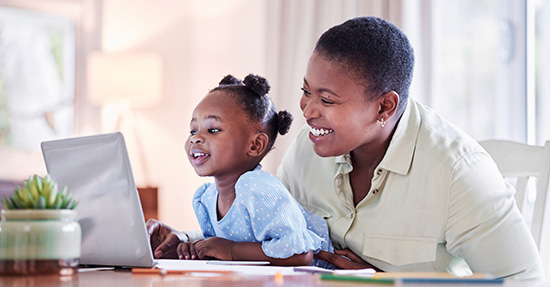 Targeted pay-per-click advertising is a great way to get in front of the families and parents who you want to see your ads online. You can reach people and areas that might be too far from your office for drive-by or direct mail and, again, hopefully get an edge on the competition while your new website is still gaining traction.
It is often the case that pay-per-click advertising can generate valuable new patient leads for established practices as well. Your competition will likely be investing in attracting patients continuously (as they should be), so stay ahead of the curve by starting PPC early and sticking with it (as long as it yields results). Your ad budget can always be adjusted up or down to meet your pediatric office's individual needs.
Pediatric Dental Social Media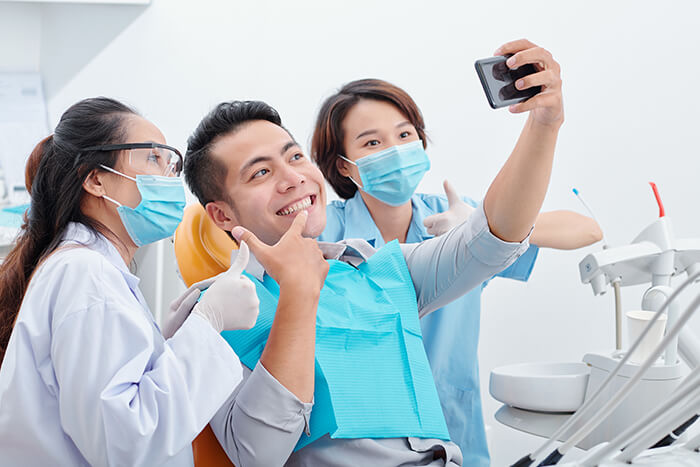 Connecting with the community is important for any dental practice, but we especially see the need for this for pediatric dentists. There are so many opportunities to do so! From school visits to family community events and tips for parents, documenting and sharing these experiences online is a helpful way to connect with new parents and stay relevant for your existing patient base. It also makes it easy for existing patients to refer your practice to their friends who are also parents.
Dentist Reviews
Nowadays, pretty much everyone reads online reviews before choosing a dental practice, especially when it comes to parents looking for someone to care for their child in any capacity. Having an automated system for soliciting reviews in place from the very beginning will help you gain momentum and build your reputation. Letting patients (and parents) know at their appointment that an e-mail or text is coming with a review request can also help improve the chances that those requests will be opened and a review left.
Create your own comprehensive pediatric dental marketing plan with one of our account managers who is waiting to offer you tailored recommendations!