Develop Your Brand
One Step at a Time

Even if you never remember that stationery isn't spelled the same as "stationary," don't be stationary when it comes to the important stepping stool between finalizing your logo and fleshing out your dental branding with professional stationery. (We know barstools aren't the same as stepping stools, but we gotta stay on brand here!)
At Practice Cafe, you'll receive three dental stationery options to choose from, each representing a slightly different branding path. Designs include business card, letterhead, and envelope mock-ups. When dentists think of their practice marketing, sometimes their sole focus is on the creation of a highly-visited dental website or the design of a direct mail piece to be sent out by the thousands. While the bigger media tend to yield bigger results and, therefore, they demand more of your time and attention, don't overlook or neglect the smaller opportunities to develop your practice brand image one step at a time. After all, your earliest design steps during the logo and stationery design processes determine the direction for your whole branding!
Stationery is pretty straightforward so there's not a lot to say about it. (Especially envelopes. Let's be honest, they're kind of boring to talk about.) We still think it's worth mentioning that one of the best things about the stationery design process is the "taste testing." Think of stationery design options like three tiny spoonfuls of different ice cream flavors that you can try before committing to the best one for your waffle cone.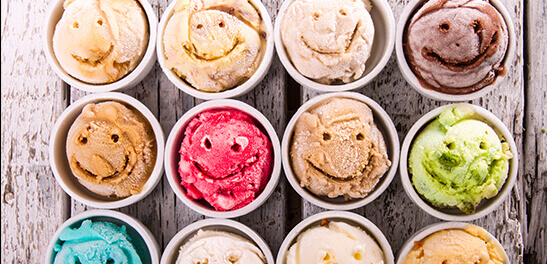 Dental Business Card Samples
Make Your Card
Worth Holding Onto

When opening a practice, often before your office buildout is finished and before your larger dental marketing projects are ready for deployment (or still building momentum), your business cards will be there for you. You can use them to get your name and branding out in your community, to generate patient referrals, and to start pre-booking appointments. Even though rolodexes have become relics of the past, business cards are a traditional marketing item that hasn't expired yet.
To make your dental business card more worth holding onto, consider having a version with a new patient offer on the back and another with an appointment reminder. When these two versions join forces, you get the small but mighty perforated referral card with both an appointment reminder and a referral patient incentive.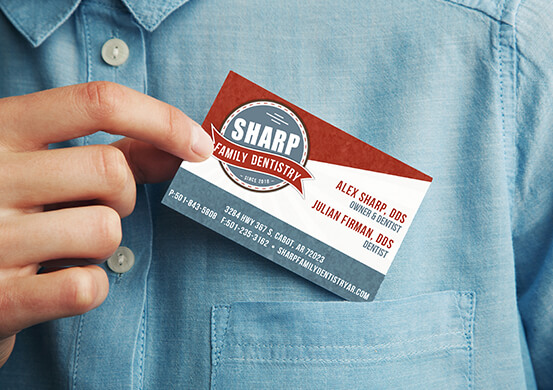 Handwritten Notes2>
Sometimes people accuse us of having guerilla marketing ideas that are cute but not worth it... Some people are grumpy... Some people even dislike puppies. Personally, we like puppies but dislike blue cheese. A cute and worthwhile marketing idea is to occasionally write notes to patients and colleagues. Yes, we're talking about handwritten notes on either your letterhead or a notecard sent in the mail. Have you heard of this before? This simple, old-fashioned gesture can be a detail that will make you unforgettable in the minds of your patients! We're not suggesting that you send a handwritten note to every single patient who comes to your office for anything and everything, we're just saying that sending a thank-you note for a certain level of treatment is classy and memorable! It will take you three minutes and cost little more than the price of a stamp, yet in most cases it will gain you buckets of patient goodwill.
If you have a group of colleagues who refer patients to your practice, or if you've networked with partner businesses that send people your way on a regular basis, a thoughtful handwritten card or, at the very least, a personalized email to show that you're thankful is proper and nice (and will make it more likely that those referrals keep coming).
REFERRAL MARKETING