Reach More People
with Less Effort

If your dental office has a decent amount of drive-by traffic and your building's zoning will allow it, consider utilizing a banner. It's an inexpensive way to reach a large number of people, many of whom will see your dental banner repeatedly if they take the route by your office often.
Banners are perfect for temporary dental signage while your permanent office sign is being designed and fabricated. Dental banners are also an excellent method to advertise appointment pre-booking, a practice grand opening, new patient offers, and special occasions like an open house or a charity event. Unless you get a programmable LED sign that can display rotating messages, you may have other practice updates that you want to advertise with banners. These include the addition of a desired treatment in your area (be it Botox® or dentures), expanded hours (after-work appointments on Thursdays?), or a notable new team member (like an in-house pediatric dentist).
At Practice Cafe, we design and print a range of banner sizes, so let's figure out what dimensions will work best for you. Our banner designs are superb and the printing never disappoints. Seriously, friends, we've never had a complaint!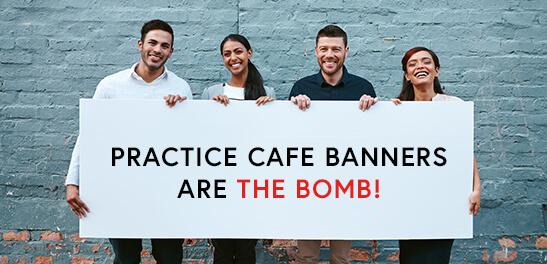 Year-End Ideas

In the last quarter of the year, think about displaying a banner outside your dental office to remind patients to use their remaining insurance benefits before they turn over. You could also advertise a holiday special to sweeten the reminder, if it makes sense for your practice, patient base, and schedule.
People get even busier than usual during the holidays and unless there's pain involved, dental visits aren't typically at the forefront of the average "to-do" list in December. When a toothache or other dental emergency does come up, though, it's not only extremely inconvenient, but it can also be challenging during some weeks of the season to find an office open with available appointments to see you as a patient. If your dental practice is emergency-friendly, particularly during the holidays, that might be a banner message that could set you apart from competitors around the New Year.