To many people, search engine optimization (SEO) can seem like a wily, elusive creature. SEO can be somewhat intimidating, and it can be a downright scary beast if you're totally unfamiliar with it! You need a way to boost your dental practice's online search rankings, get more new patients, and, hopefully, "own" the first page of Google search results for dentists in your area. The answer is simple, right? SEO? Search Engine Optimization. Do this, and your website is golden…
But SEO is doing what, exactly? That's a question we hear often. You, as a dentist, know that you need to "get SEO." Your website needs to be "SEO-friendly" or have "good SEO" to rank well. Your site needs to be optimized. Since there are so many ever-evolving search engine ranking factors to consider, there are many myths that have popped up over the years about the most up-to-date and best SEO practices. We're here to shed some light on a handful of common SEO misconceptions so you know better what to ask about and what to ask for from your SEO company.
---
Myth: SEO isn't necessary.
Fact: SEO is necessary if you want a robust online presence that works well for the growth of your dental practice business.
If your website doesn't rank well, i.e., if you don't show up online when people search for a dentist in your area, then your website can't work for you the way it should (and, likely, the way you want it to). The first step to understanding why SEO is important is recognizing that your website is an important element of your practice marketing and overall business plan. Your site is an advertising asset meant to be utilized to help you get new patients, not just to inform established patients of your office address and hours. Your website can't be the beneficial marketing asset it's intended to be merely by existing, stagnant and lifeless. It needs regular maintenance and work!
The internet is an exponentially growing resource. It provides fast answers and a plethora of information for all types of users. Most people won't spend more than a few seconds looking for something via online search before deciding which websites from the results that they'll visit. Your online presence can help make or break your practice growth.
Did You Know…
1 in 20 Google searches are for health-related information
60% of Americans are willing to use mobile apps to help manage their healthcare
62% of smartphone owners have used their phone in the past year to look up information about a health condition
Statistics from Fathom®
---
Myth: I've tried SEO. It didn't work then, so it won't work now.
Fact: Done properly, SEO does work. Knowing what to expect can help you gauge results and judge your progress.
---
Rule of Thumb #1: SEO Takes Time
If you tried SEO for a week or even a month and felt like it "didn't work," it probably wasn't enough time for your SEO efforts to marinate and start being fruitful. SEO should be based on a couple key things: 1) best practices, and 2) data. By implementing best SEO practices and letting the changes from those tactics take effect over time, you'll have valuable data available to support smart decision making for the future of your website. If you didn't give SEO long enough to make enough of an impact on your website, then you may have cut that practice growth opportunity short. Sure, sometimes a month is enough time to see noticeable SEO results, but in general we say it takes a least a quarter (3 months) to see significant improvements. It depends on where your website started, and on how competitive your local online landscape is. And no matter how much time you give SEO, if the company providing it isn't applying the right principles and practices, the results you desire for your site probably won't ever happen.
---
Rule of Thumb #2: Wear a White Hat
There's a term in our industry: "Black Hat SEO." It's a big no-no when it comes to a healthy online presence with high chances for future prosperity. Spammy link building tactics and keyword stuffing were what you might call the "original" strategies for doing SEO, but these methods are outdated and can actually get your website penalized now. Google wants you to honestly earn your links and to provide real, relevant, and usable content for searchers. We call this up-to-date approach "White Hat SEO." Here at Practice Cafe, that's all we do! Honest, effective SEO is about the users on your website just as much as it is about the search engines. If your past SEO efforts didn't work, it might be because the company that did it employed more black hat tactics.
---
Rule of Thumb #3: One Size Doesn't Fit All
At Practice Cafe, we specialize in local SEO for the dental industry. There are thousands of SEO companies out there, so it's important to find a company with an approach to SEO that will work for your business. Available online services usually include a myriad of digital marketing options, including but not limited to: SEO, content marketing, search engine marketing (SEM), paid advertising, social media management, directories, review solicitation, technical SEO, pay-per-click advertising (PPC), reputation management, etc. Jargon, jargon, jargon. It's enough to make your head spin! Choosing a service and digital marketing plan that fits your needs and budget can seem daunting with all the options out there. In many ways, it can be worse than getting your car fixed! How do you know who to trust?
Did You Know…
The bottom line is that you should choose a company that has a proven track record of effective methods that achieve successful results for clients who have a business similar to yours. Each digital marketing company has their own "secret SEO sauce," which should be based on hard data, industry best practices, and key performance indicators, among other things. You'll find the right fit for your practice and get the best return on your digital marketing investment when you use a company that specializes in SEO for the dental industry, particularly for local dental offices.
---
Myth: Google uses the keywords in my content to decide how to rank my website.
Fact: There are over 200 ranking factors that Google uses to decide where your website should appear in search results at any given time!
Your SEO company should be managing close to 200 aspects of your online presence that influence its performance! Everything from website content and navigability, to site speed and off-site directories, can affect how your practice appears in online search results.
Did You Know…
We've come to a part of this post where it's worth mentioning what you can consider the myth of "page 1" on Google and Bing. Your page 1, my page 1, her page 1, and his page 1 down the road will all be different. Why? Because Google and Bing determine what any given searcher on any given day sees based on numerous factors, including personal browsing history (especially applicable when you're logged into, say, your Google account), the device being used, and the physical location of the person when conducting the search.
So what does this mean for your SEO? Simple (sort of)! Make sure your company of choice focuses on metrics that are measurable and that matter. Your SEO provider should be tracking new phone calls and contact form submissions from searchers after they arrive at your website. Watching new patient lead numbers increase is far more telling than arbitrary graphs that show how well you "rank" for any keyword.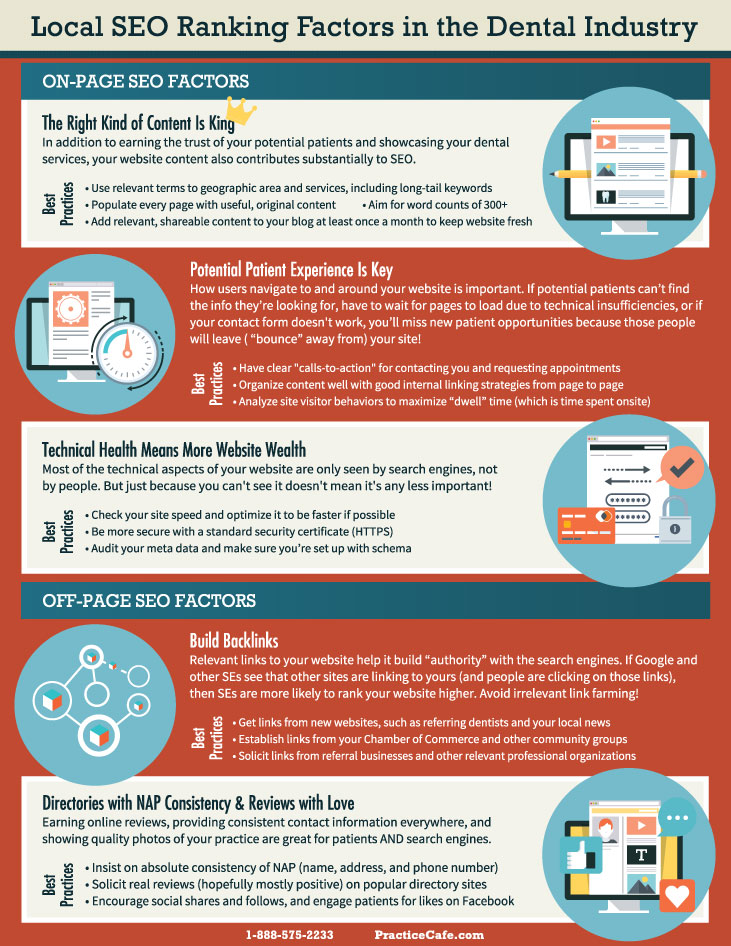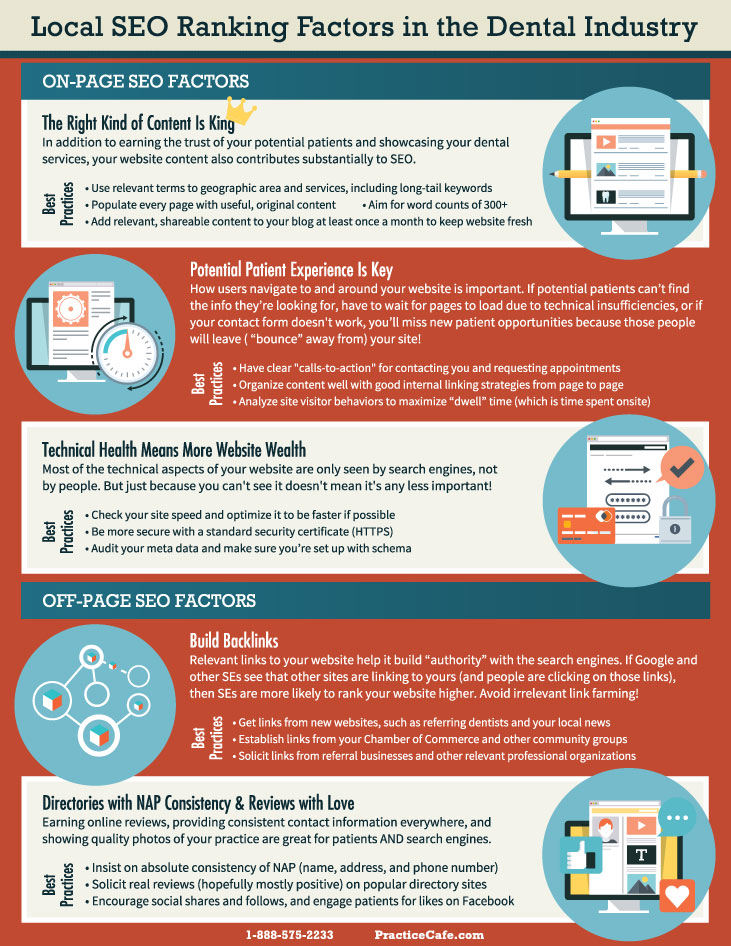 ---
Myth: If I rank #1 for a "magical" or much-desired keyword, I have great SEO.
Fact: The goal of SEO isn't just to improve rankings for a single, popular keyword.
The goal of SEO isn't merely to rank at the top for a specific keyword. While this is certainly the most popular notion of what SEO can do for you, the scope of a truly beneficial SEO program is actually much broader.
Did You Know…
Let's say you rank at the top of search for a great keyword like "dentist in Columbus IN." In an average month, there are 10 searches for this keyword within the city of Columbus, Indiana. Wait… What? Yup. On average, there are only 10 searches for this keyword that are performed each month by the target audience. Of course there are variations of this keyword phrase that are also searched, such as "dentist Columbus Indiana," "dentist in Columbus Indiana," and "Columbus Indiana dentist." All totaled, these 4 particular keyword phrases are searched 210 times per month on average. That's a viable amount of traffic if you rank highly enough to earn most of those clicks! Your SEO company needs to focus on a well-rounded group of desirable keywords for you. Beware of companies that guarantee results based on a single keyword phrase!
Also, remember that not all keyword phrases will include location specifics. What about searches for a "family dentist"? This keyword gets an average of 10 searches per month in Columbus, IN. In addition, there are other versions of this keyword that people search for, such as "family dentistry," "family dental," "family dental care," "family dental center," "family dentists," and even more! These 6 keyword phrases get a total of 60 searches per month on average. Combine that 60 with the 210 keyword search occurrences above and you get quite a substantial increase in potential searches that you could appear in and, with our help, rank well for!
There are even more possibilities to consider when it comes to what are called "long-tail keywords," which are basically longer keyword phrases (3 words or more) that are more specific and narrow. When a searcher has a very specific need and/or when he or she is close to a decision, more long-tail keywords will be used for online searches. Here are some examples: "missing two molars what are my options," "need a dentist open on Saturdays," and "pediatric dentist who accepts Delta Dental." People search in a variety of ways when looking for a service, and their search terms are usually based on what they need the most. To rank well for as many keywords as we've touched on here, you need a multi-faceted, industry-specific approach that is flexible enough to shift focus as your local search trends shift. There are, frankly, no shortcuts and no easy ways.
How people search is worth looking into, as well. More and more people are using their phones for mobile searches and not only that, they're doing voice searches on their phones (think Siri or "Ok Google"). That means the actual keywords people search along with how they search changes all the time! In fact, approximately 15% of the 3.5 billion daily searches on Google have never been searched before! If you can anticipate and meet your potential patients' needs, both online and in your office, then they're much more likely to schedule an appointment with you and keep coming back. Anticipating the needs of people searching for dental care providers in your area by tailoring your online presence to what they're looking for should be a major area of opportunity that you and your SEO company concentrate on.
---
Myth: I did SEO once, so my website is all set.
Fact: Google updates their algorithm every few months, changing the way your website appears and fares in search results.
Google updates its algorithm regularly. In the past few years, a lot has changed. In 2013, there were a total of 17 algorithm updates. In 2014, there were 15 updates. In 2015, Google updated its algorithm 5 times. That means that every 2–3 months (and even more often in past years), your website would be considered "out of date" if you didn't have regular SEO services.
Google Algorithm changes at Moz
Did You Know…
Website years are like dog years. Your slobbery friend may only be two in human years, but in dog years, that's like 14 (ugh, teenagers)! Your website is the same, but ages even faster. Not to mention, user search trends change almost as quickly as the search algorithms do. Accessibility and user experience are becoming increasingly vital. Users want more from their online experience and if your website doesn't deliver, they might choose a competitor over you.
---
Myth: Pay-per-click (PPC) advertising directly increases SEO efforts.
Fact: Paid search works independently to get you more website traffic and help improve your online presence.
How you rank organically isn't dependent on your success in paid advertising/PPC. Both organic rankings and sponsored listings from PPC appear on the search pages, but as completely separate search results. The search engines are pretty good about marking the paid results differently than the organic results. Conspiracy theorists sometimes claim that the more money you spend on Google advertising (AdWords), the more Google will "reward" you in search, but we don't believe it's true.
Did You Know…
Having said the above, in the majority of markets, we believe that doing SEO and running a PPC campaign can benefit your overall online presence more so than doing either solo. Not as a result of any handouts from Google tied to spending money with them, though. For one thing, showing up as much as possible at the top of the first search results pages will almost certainly result in more new patient leads for your practice. For another thing, if a PPC campaign gets more new visitors to your website who spend time looking around ("dwelling" there), then both of those factors at least correlate to bettering your website's chances in organic search results. In short, the relationship between PPC and SEO success isn't causative, but we're never surprised to see correlation between terrific PPC campaign success and a boost in organic SEO standings.
---
Myth: Content is "King." The more content on my website, the better. Give me all the pages!
Fact: Google likes relevant, original content that people actively read and share.
Any time you hear the terms "content library" or "service library," run for the hills! These terms refer to large groups of content available for your website, and for every other client's website. This means that, with negligible differences, your website content could be the exact same as 1 or 10 or 100 other dental websites. If your site has this kind of duplicate content on it, those duplicated, unoriginal pages have no value to search engines, and often very little value to users. This lack of value will result in a lack of SEO authority.
Did You Know…
Content is "King" only if it's the right kind of content. Your website should have content that is unique to your practice and valuable to your patients and potential patients. When someone in your area is searching for a dentist online and they arrive at your website, are they finding the kind of information they were looking for? The content on your site should also be easy to navigate (don't make people click through oodles of pages), and your content should be easily sharable on social channels. The more time people spend on your website, engaged with the content provided there and, better yet, sharing it with others, the better that bodes for your rankings in search results. If people don't find on your site what they were looking for, they won't spend time there. They will "bounce" away!
We hope these myth-busting SEO insights will help you be a more savvy website owner in the evolving landscape of digital dental marketing. Still want to know more about SEO, PPC, or anything else having to do with dental marketing? Are you ready for Practice Cafe to take your SEO to the next level?
Contact Us