Tell Your Story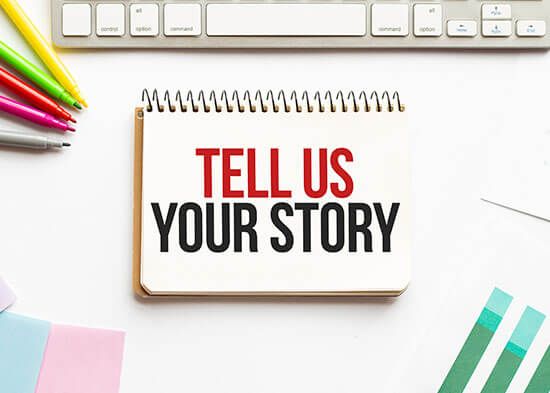 Your dental practice is unique—from the people who work there to the combination of treatments that you provide. Your dental logo and branding will tell patients the beginning of that story in less than a second. Sometimes that's all the time we have to make a first impression, especially online or as people shuffle through their mail!
The first marketing step for your dental practice should be to establish branding, ideally a few months before you open your doors for business. If your practice has been around for a while, then it might be time to refresh your original branding. Strong, cohesive branding will serve as the foundation for all of your future marketing efforts and your practice mission (if you're into that), and it can greatly impact the success of your dental office (for better or for worse).
Use an Experienced Narrator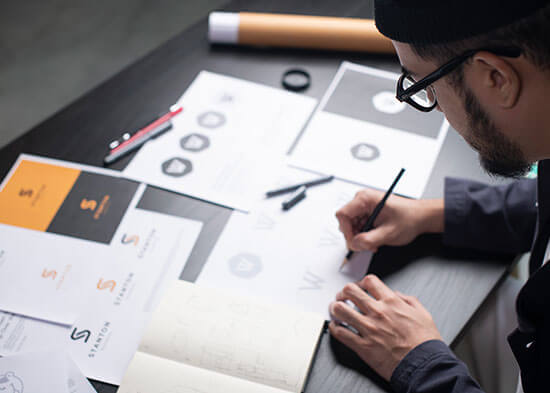 Any audiobook fans out there? Have you noticed that when the author or a professional actor reads the book on audio, the quality is so much better? They really know how to wrap you up with their story-telling abilities! That talent to grab someone's attention and pull them into the story is the difference between hiring a professional to design a custom dental logo for your practice verses using an amateur or generic option. Cut-and-paste clip art logos might get the job done, but how well?
Here at Practice Cafe, our dental logo design process comes with several initial options and a few design feedback rounds so we can hone in on the right logo for you! So, what do you want to say about your practice? There's probably a lot! We like to ask our clients some questions to help inform the look and feel of their visual branding—we want what we design to match the story you're trying to tell about you and your practice.
What's your desired design style?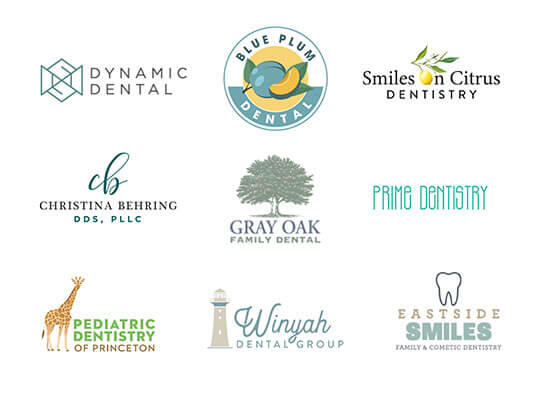 Abstract – unique, abstract/conceptual symbol or icon
Badge – practice name and any other illustrative features within a larger, badge-like shape
Iconic – easily recognized and memorable image
Monogram – incorporate one or more of the initials of your practice name into a distinct & legible design
Realistic – use illustrations that are drawn more true-to-life, often with more detail
Typographic – use an eye-catching font and/or type treatment for the practice name
Pediatric – incorporate colorful, cheerful designs
Whimsical – use charming, playful imagery
Clinical – incorporate common dental imagery such as teeth and toothbrushes
What design inspiration should we look to incorporate into your logo?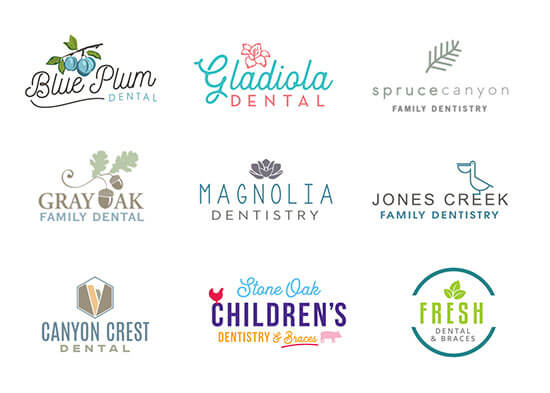 Favorite artwork
Indigenous plants or animals
Local geographical features or landmarks
Office exterior or interior features
Office artwork
Personal hobbies
Practice name or philosophy
Practice tagline
State icons (flower, tree, bird, etc.)
Next, we go into more detail about the actual look of your practice logo, including font selection and color palette. We gather information about existing designs you might like the look of from our logo gallery or elsewhere that you've seen.
Call us to get started with your practice's custom dental logo!
---
Brand Building Blocks
In addition to getting a logo, knowing what your brand's visual attributes are is helpful and even needed for some future marketing projects. As part of your final logo with Practice Cafe, you can also get a brand guide that breaks down and details the specific design elements that may be used in your signage or on your team's scrubs or other such promotional items. These include fonts names, color details, and even examples of photos that capture the same look as your branding.
Dental Logo Design FAQs
What if I don't know what I'm looking for/have design preferences?
This is one of the most important reasons why you should hire an experienced logo design agency to work with you on your dental logo. Turning desired feelings, taglines, and your practice name into a cohesive logo design that you'll love—and, more importantly, that will appeal to your patients—is harder than it sounds. That's a lot of elements to fit into a small space! Our logo design questionnaire is designed to help turn your ideas into clear direction that our experienced design team can then turn into a variety of logo designs for you to review.
Will I receive the final files of my logo?
We provide final dental logo design files in several formats for your use, and we can also coordinate with other vendors you're working with for assets to ensure that your files are used with the highest quality specs. File type on any project can make a big difference in final quality.
I already have a logo. Do I really need a new one?
Keeping your branding fresh and up-to-date starts with your logo. If you're getting a new website, you might consider refreshing your logo first. A logo update can include colors, fonts, or other more minor design tweaks so your logo is still recognizable to patients already familiar with your brand, but it will also speak to modern design trends. A leading-edge dental practice needs a leading-edge logo! Having said that, our talented team can make marketing designs work with original logos, even if they're not up to date! Please never hesitate to contact us because you're afraid you'll get pressured into a logo change that you don't want. That's not our style! We want you to get what you need, and that's that.