For 24 years, Madison, Wisconsin served as home for our resident cheese lover and Cheesehead, Mathew Webb, also known as Mat or Matt. (We never know when to use one or two "t's"). After graduating from the University of Wisconsin-Milwaukee with a bachelor's degree in marketing and working for a few more years in the Midwest, Mat decided that snow wasn't quite his style. So to the sunny hills of Austin he came with great dreams of eating tacos and enjoying 300 days of sunshine. He joined the Practice Cafe family in December of 2016.
As a Design Client Rep, Mat guides projects from just a gleam in clients' eyes to tangible, finished products that they are proud to have represent their practice. He guides his folks through each of their projects, making sure everything's running smoothly and on time. He serves as the glue connecting our clients to our team of experts at the Cafe. His favorite aspect of the job so far is the excitement of learning and doing something new everyday.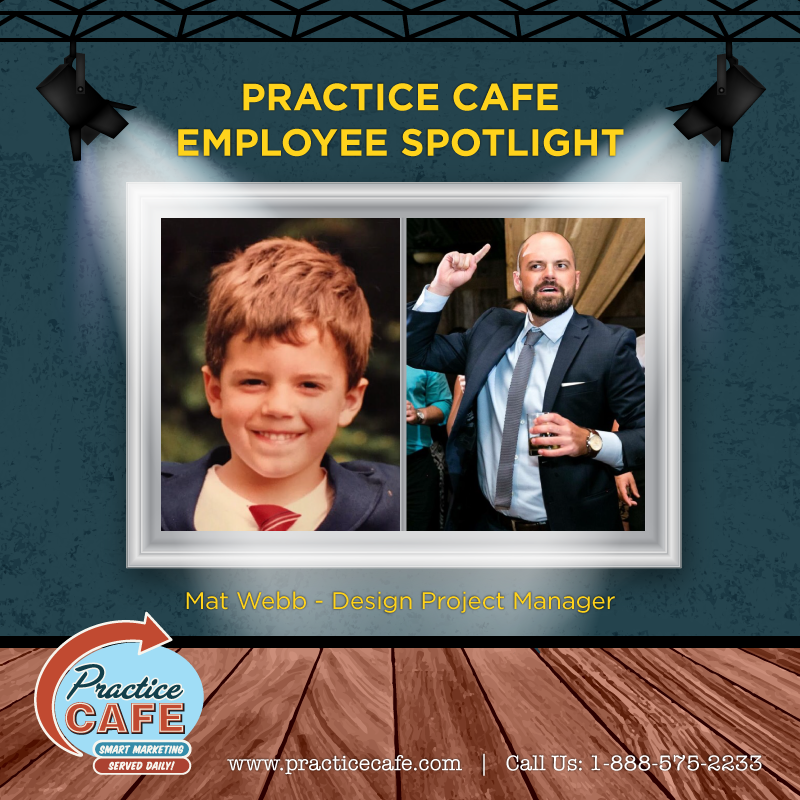 When he's not in the office or attending a wedding, Mat busies himself with much of what Austin has to offer: hiking, swimming, going to concerts, watching and playing sports, and enjoying all the local eats. He's an avid traveler and plans to make his way to Beijing, Vietnam, and the beaches of Thailand at the end of 2017. And among his many talents, he's quite the champion of Dad Jokes:
What does an annoying pepper do? It gets jalapeño face.
*collective groan*
Practice Cafe is glad to have Mat around the office. He keeps us laughing, but most importantly, he keeps us up-to-date on the latest sweater trends for summer.
Fun Fact:
Mat is third of seven kids!