You've heard of "low-hanging fruit"? This is where it's at. Referral patients can often be won over with less effort and less financial investment than new patients who don't have a referral connection to your practice.
What Is Referral Marketing?
Practice Cafe considers referral marketing to be any internal or external endeavor that maximizes opportunities to invite new patients through people who are already patients or who you've already established a professional relationship with, such as neighboring businesses and referring doctors.
Referral Card
Perforated Referral Business Card
Practice Cafe's perforated business card packs a powerful punch for a small piece, working double duty as an appointment reminder card and a tear-off patient referral card. It's essentially two standard-sized business cards connected by a perforation, giving you four panels of business card real estate in one piece. A "perf card," as we affectionately call it, is not only practical and very affordable but for dentists and staff who feel a little out of their comfort zone asking for referrals, this piece is also an easy, natural way to get the word out because of the appointment reminder aspect. In states where you're allowed to offer referral incentives, patients sometimes get really into the referral spirit and can become one of your best sources of new patients.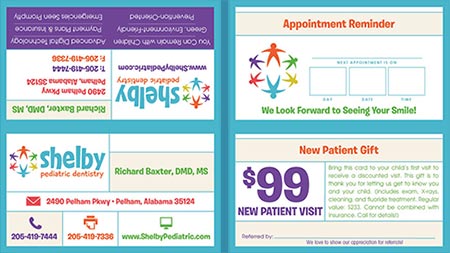 Rack Card
Rack Card
Our rack card is meant to be used for external referral marketing, but it can be an information piece for internal marketing as well. The piece is the same size as a common trifold brochure (when the brochure is folded), and the bottom part has a tear-off business card that usually has a new patient offer on it. We recommend establishing relationships with local business like hair and nail salons, gyms and yoga studios, chiropractors and other professionals in the health and wellness industry. The rack card is perfect for being displayed in a brochure rack or in a stack on a corner table in these neighboring businesses. It gives just enough information and incentive to interest people in contacting you without requiring as much time and attention as a full brochure.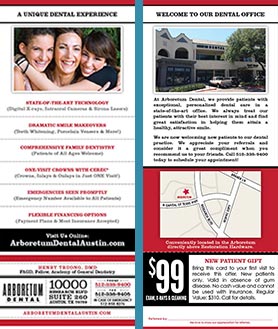 Trifold Brochure
Trifold Brochure
For internal or external marketing communication that needs more space than a rack card, trifold brochures are a tried-and-true option with more room for content as well as a format that's familiar to the average person. Trifold brochures can be used to convey general introductory information about the benefits of your dental practice, or to promote something in particular like an in-house dental membership plan. When discussing referral packages, we sometimes suggest including a trifold brochure. It's an informative piece without being too large to fit in a purse or folded in a back pocket.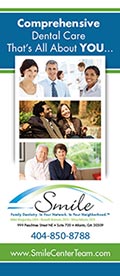 Recall
Recall
You want your recall system to bring your dental practice back into the minds of patients who are due for their next dental health appointments, thereby helping bring them back into your office. Practice Cafe offers two formats of recall design, a singular postcard and a 4-up sheet.
The singular card is our standard recall setup, and we recommend having patients handwrite their own address so there's a higher likelihood that the card will catch their attention when it comes in the mail. This format is perhaps a bit more personal feeling than the 4-up sheet, which is designed to be printed directly from your dental software.
The efficiency of a more automated recall system is a benefit that many clients appreciate, leading them to choose our 4-up design option. Your recall print design should be combined with a patient communication program that includes email and text capabilities, personal correspondence such as phone calls and notecards, and whatever other patient retention tools your team has the capacity to implement and maintain.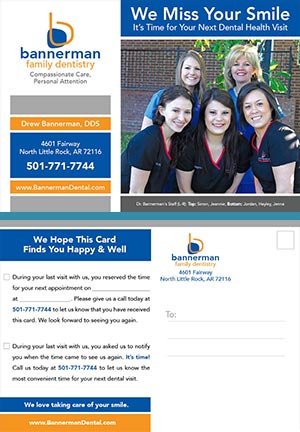 Referral Pad
Referral Pad
Our standard size for a referral notepad is 5″x8″ and we customize the content for its intended purpose. If the referral pad will be specifically to welcome patients sent from other dentists for unique services that you offer such as dental implant placement, teeth straightening, or wisdom teeth removal, then the content can be more specific. For more general referral solicitation aimed at referring doctors in a variety of fields from pediatrics to chiropractics, notepad content should be more broad. We suggest putting together a nice referral package that you can hand-deliver when introducing yourself to potential referral sources. We often call this "cupcake duty." Yum!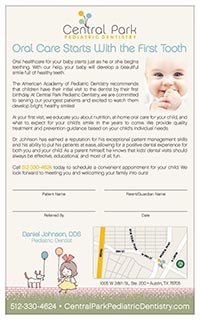 Ad Specialties
Ad Specialties
Ad specialty items can be used to promote your dental practice in numerous ways. If you give new patients a welcome swag bag, remember that everyone likes reliable pens and free mugs or cups. When patients take their mug with your logo and web address to their job where coworkers will see it and might even use it, that's marketing exposure snowballing. If you send goodie bags home with patients after their visits, a lip balm or box of mints with your logo and contact information can be a great addition to the usual dental paraphernalia of toothbrush, toothpaste, and floss. Families always appreciate dental emergency guides in magnet form as well as reusable grocery bags, and kids and teenagers like a cool t-shirt they can get a prize for wearing to school on days they have a dentist appointment. There are many, many options out there so if you have something in mind, just ask and we can probably make it happen!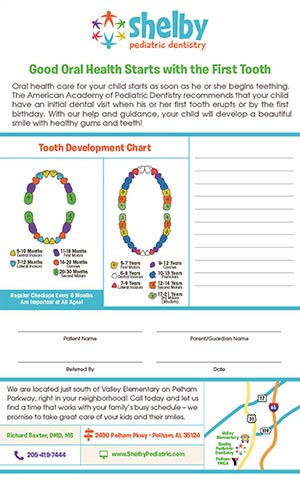 ER Magnet
ER Magnet
Back in the day, we started doing ER magnets because one of our first employees had received an advertisement with a guide to dental emergencies before she'd even had her first baby, and she kept it! She saved it for years because she knew that, eventually, having the guide handy could mean the difference between saving or losing one of her kids' teeth in a dental emergency. We know from unfortunate experience that this is true. Accidents happen, but when you know what to do, most accidents don't have to be frantic emergencies. Show your patients that you're there for them in a dental emergency, from the moment one happens (when they need an ER magnet most) until they can get to your office for care. Our dental ER magnet is a simple, practical gift that will keep giving, both for your patients and for your practice.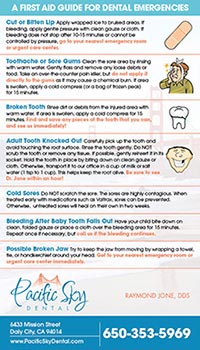 Letter
Letter
Individual letters to patients, vendors, or colleagues can be printed on your official letterhead, and a notecard with your logo and branding is perfect for sending "thank you" notes or birthday cards to patients and others in your professional network. When you need a letter to make more of an impression and to be sent to more people, our custom-designed letters have both the wow factor you're looking for as well as the capability to be mass printed and mailed to your entire patient base. Occasions for sending a letter to all of your patients include the end of the year, when people can use a reminder to take advantage of their remaining dental insurance benefits before they lose them. It doesn't hurt to run a holiday special at the same time to encourage case acceptance, or simply as a gesture of holiday cheer. A momentous occasion that calls for sending a letter to your patients is an office move or the addition of another location. Announcements that are perhaps less momentous, yet still important and noteworthy, include new partners or associates, new technology and treatment offerings, and new financial options like an in-house dental membership plan. Whatever your letter needs, Practice Cafe can design something for you that will get the job done and do it beautifully!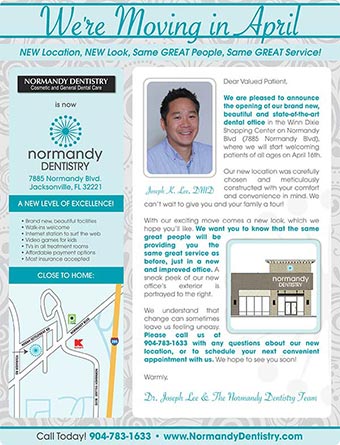 Promo Board
Promo Board
Practice Cafe's promo boards are basically promotional posters that are inexpensively printed and mounted on foam core for display. Our clients use them to advertise particular services, including announcements about new treatments, added technology, and new employees or in-house specialists. Other messages that can be very well-communicated to patients using a promo board include announcements about upcoming office renovations, information about a move or an additional office being opened, the scoop on seasonal offers or patient referral programs, and details about special events from open houses and holiday celebrations to community outreach and charity events. Our standard size for a promo board design is 11″x17″ but we're more than happy to customize the size to a client's individual needs depending on the purpose of the board and where it will be displayed. Some clients display their promo boards temporarily, whereas others frame and hang them permanently in their lobbies or treatment rooms.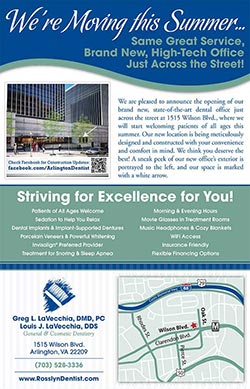 Boost Your Referrals